为了识别极端干旱气候事件对湖泊生态系统的影响,陈光杰教授团队以滇东南地区两个中型浅水湖泊为研究对象,结合沉积物记录、气象监测资料、遥感影像数据等开展了湖泊环境与硅藻群落的长期响应模式识别。博士后Anna-Marie Klamt作为第一作者以《An extreme drought event homogenises the diatom composition of two shallow lakes in southwest China》为题,在环境与生态领域二区期刊《Ecological Indicators》(SCI影响因子:4.49)发表相关研究结果。
Droughts are natural hazards which are projected to intensify in the future. Yunnan province of southwest China has experienced an extreme drought event between 2009 and 2013. This long period of water shortage decreased the areas of many lakes significantly (Fig. 1). The effect of these severe hydrological changes on the diatom composition of two shallow lakes was investigated in Klamt et al. (2019). We found that the diatom assemblages of both lakes became more similar during the drought event, namely species of the genera Navicula and Nitzschia showed strong increases in their abundances (purple plots in Fig. 2). This was preceded by peaks in the content of silt, suggesting that increased particle burial rates favored motile and possibly heterotrophic species (enlarged plots in Fig. 2).
Considering that both lakes showed different developments before the extreme drought event, makes the species homogenizations found particularly remarkable. The diatom community of Lake Chahei exhibited a clear response to eutrophication (nitrogen enrichment) from the 1980s with a shift in the dominating species from Epithemia sorex to Achnanthes minutissima (green and dark blue plots in Fig. 2). In contrast, the diatom community of Lake Yuxian was stable during the last century and dominated by the Fragilaria construens/pinnata complex (light blue plots in Fig. 2).
The severe drought event has substantially changed and homogenized abiotic conditions in both lakes and hence selected for similarly adapted diatom species. This clear response suggests that Navicula and Nitzschia species are useful (paleo) indicators for extreme drought events in comparable shallow lake systems. However, the homogenization of the diatom species composition, i.e. reduced beta-diversity, is alarming. Drought events are projected to happen more frequently and with longer durations and stronger intensities in the future. Under such extreme condition few adapted diatom species may establish in shallow lakes and prevent the recovery of former species assemblages with consequences for ecosystem stability and services. Future lake management should take these (new) ecological threats into account.

Fig. 1: Time series showing satellite image-inferred lake areas for Lake Chahei and Lake Yuxian. The extreme drought event is indicated.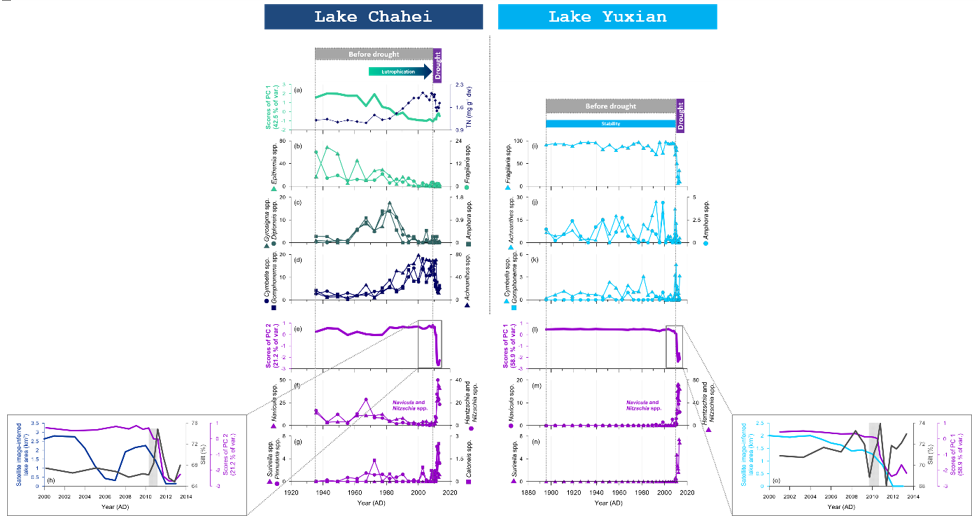 Fig. 2: Time series showing scores of significant principal components (PCs) and relative abundances (%) of diatom genera for Lake Chahei (left panel) and Lake Yuxian (right panel). Sedimentary total nitrogen (TN) content of Lake Chahei is shown as well. The enlarged parts illustrate the relationship between decreased lake areas, increased silt contents and changes in diatom composition (scores of PCs).

Fig. 3: Time series showing beta-diversity for Lake Chahei and Lake Yuxian.
本研究工作在云南师范大学旅游与地理科学学院与高原地理过程与环境变化云南省实验室完成。该研究得到科技部国家重点研发计划"全球变化及应对"专项课题(2017YFA0605202)、国家自然科学基金项目(41171048, U1133601)的联合资助。
原文链接:http://www.sciencedirect.com/science/article/pii/S1470160X19306557?dgcid=coauthor